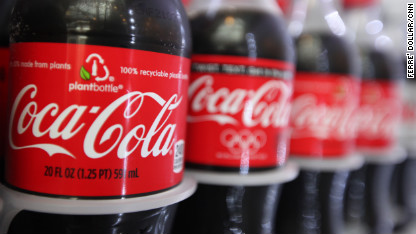 It's a statistic we've been hearing far too often -- and for far too long. Two-thirds of American adults are either overweight or obese -- and the problem is only getting worse.
Even Coca-Cola, the world's largest beverage company, is now calling obesity "the issue of this generation."
The world's most valuable brand took the last seat at a crowded table Monday, when it launched an ad campaign aimed at "reinforcing its efforts to work together with American communities, business and government leaders to find meaningful solutions to the complex challenge of obesity."
I think you know this. Yes, Americans are big and fat. But they cannot blame Coca Cola company.
Their problem is not drinking Coca Cola. The problem is portion, quantity.
I like Coke but I don;t drink daily. I drink once a week or every two weeks. I prefer Diet Coke because I am on diet.
Taste good? I call it Chemical Coke because they use chemical sugar. It's OK if I drink once a week.
I know some people drink Coke as water, that's a problem.
Coke is not water, it is refreshment drink.
I read an article that a teenager drunk 2 cans of Monster drink and died. That's so stupid. Why we need to take 2 cans of energy drink? It's not energy drink, they just say that.
Anyway, Americans problem is portion, overeating and over drinking,
I think our customers are far above of average Americans but still they eat a lot.
And I feel Coca Cola action is almost same as tobacco company's campaign.
Tobacco companies are nothing wrong. Smoker is bad.
It is same like if you make accident with GM, and you complain GA because GM makes that car.
We have to control our mind and body, It is simple and difficult.
I feel like same as gun control. Gun is not bad but people using gun for wrong way is bad.